More about our new BLAND issue
"Can you please make mine mild?" This spring brings with it The Runcible Spoon's BLAND ISSUE. And really, what else is there to say.

How to Make a Zine from AJ Chavar on Vimeo.

Kalee Rinehart ate all her meals between two rice cakes for a week.
We've culled together tasteless tales and painful experiments for your general amusement. If your favorite meal is buttery noodles with NOTHING else on them, this is the place for you. In an attempt to be artistic, we decided not to include the world "bland" in any part of the issue. Or at least we tried.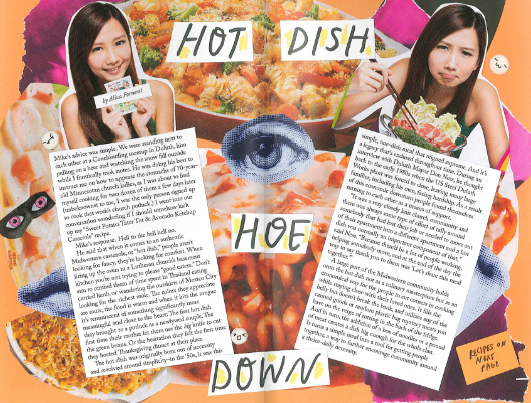 Alica Forneret teaches us that people in the Midwest really like casseroles.
In this spice-averse issue, you will find:

++ "True life: I'm Allergic to Garlic," a personal essay
++ Cooking with Cat: Let's Make Tofu Pudding with a feisty feline chef
++ A riveting interview with Mr. Milquetoast on milk toast
++How to make true beige casseroles, straight from America's heartland

And much more! As always, the issue is handmade and collaged with love for our dear readers.

Featured contributors include Brooklyn photographer Chris Maggio, creator of the Male Chef blog; UK painter and creator of beautiful food art Joel Penkman; food storyteller Alica Forneret; and funkytown illustrator Donald Ely.

Preorder your issue here (ships out April 28, 2014)
-Hollis