When it's a piece of cake!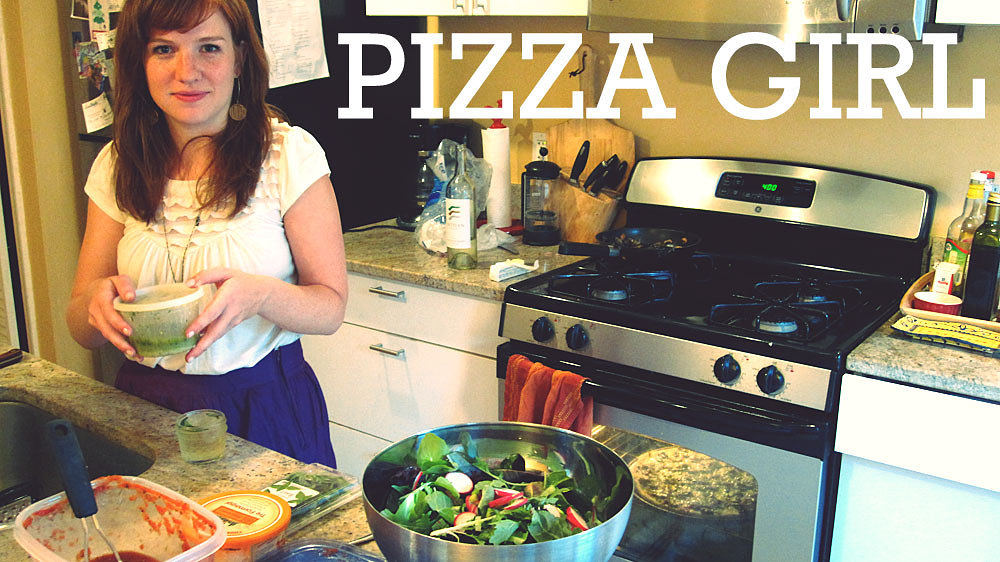 Lori showed us that pizza is not so scary; that in a few simple steps, you can have a bona fide feast. Round these parts, she's known as pizza girl. At least, that's what I call her affectionately because we both share a great love of the stuff, from Chicago deep dish to Italian authentic right on down to the jumbo slice. Lori joins us this week as our third guest Dinner Jockey. (See part one and part two.) Here's what she shared, inspired by a dinner at in NYC.
As we learned by observing there are a few easy steps to a great homemade pizza.
1. Dont make yourself miserable by fussing with dough. You can buy perfectly good stuff in your grocery store's bakery.
2. Some pizza stones come with directions that say not to grease or butter. They are lying.
3. Fresh herbs are paramount.
TO START: Wild Greens & Radishes with Tarragon Salad Dressing
Pour a little apple cider vinegar, some olive oil, a splash of water and two sprigs of tarragon into a blender. (I did not measure this, but there should be more vinegar and water than olive oil.) Add a pinch of salt, grate some pepper and throw in some Parmesan cheese. Blend until it's…well…until it's blended.
Slice up some green onions, a bunch of radishes and mix them with the lettuce of your choosing. (I used the herb salad mix from the grocery store because it has tasty surprises like fennel.)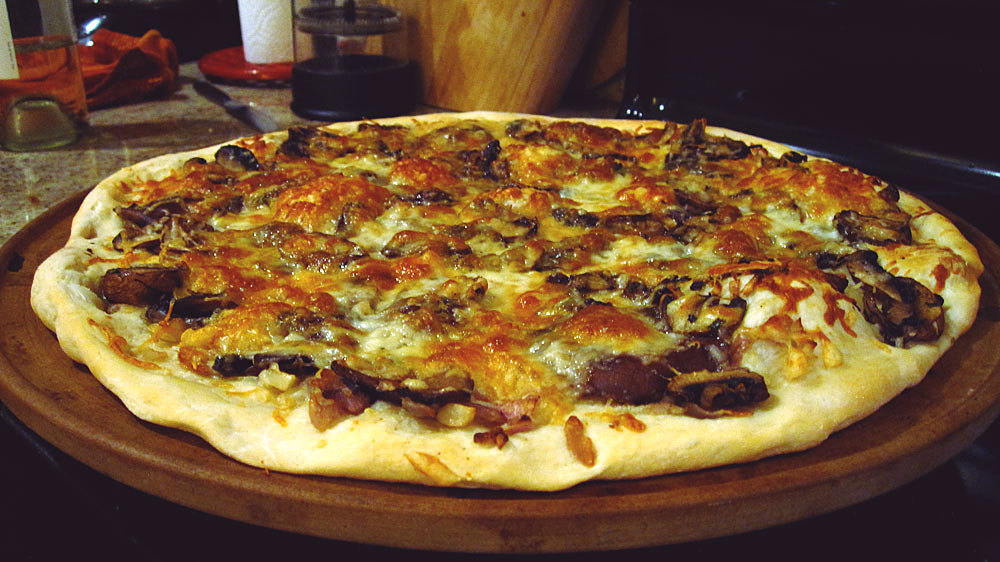 Mushroom Pizza Delight
Pre-heat oven to 400 degrees.
Slice up a variety of mushrooms. I used crimini and shiitake mushrooms on this one. (I would have used oyster mushrooms too (they are my most favorite!) but they were out of them at the grocery store.) Throw them in a skillet with a sliver of butter and a cup or two of white wine. Add fresh rosemary and saute until well cooked. Add salt and ground black pepper to taste.
Chop up three to four shallots and 3 cloves of garlic. Saute them in a separate skillet with about one tablespoon of butter (mmmm! butter!).
Roll out pizza dough on a pre-buttered pizza stone.
Once the scallions and garlic are cooked down, spread them evenly onto the rolled-out pizza dough. Really get that butter all over. Sprinkle some grated cheese over this first layer evenly. I used a pre-grated mixture of Fontina, Romano and Parmesean. Next take the mushrooms and sprinkle them evenly over the pizza. Leave any liquid in the pan or it will make the crust soggy. Put fresh grated Parmesean cheese over the mushrooms until satisfied with your cheese coverage. Add a little more rosemary if you feel like it!
Bake at 400 degrees until it's finished. (We forgot to time it.) The cheese should be bubbly and browned and the crust lightly toasted.
Marion Street Margherita Pizza
Throw one can of peeled tomatoes, several leaves of fresh basil and three cloves of garlic into a blender. Blend.
Roll out pizza dough on a buttered (!) pizza stone.
Spread your blended tomato mixture evenly on the dough. It's OK if it's thin. It doesn't need to be a thick sauce.
Thinly slice one ball of fresh Mozzarella. Place slices evenly over the tomato sauce.
Tear fresh basil leaves and scatter over the pizza. I like to place them in between the Mozzarella, but there are no rules. Just make it very pretty.
Sprinkle some cracked black pepper over the top.
Bake at 400 degrees for about 25 minutes. The cheese should be browned and the crust lightly toasted.
ENJOY!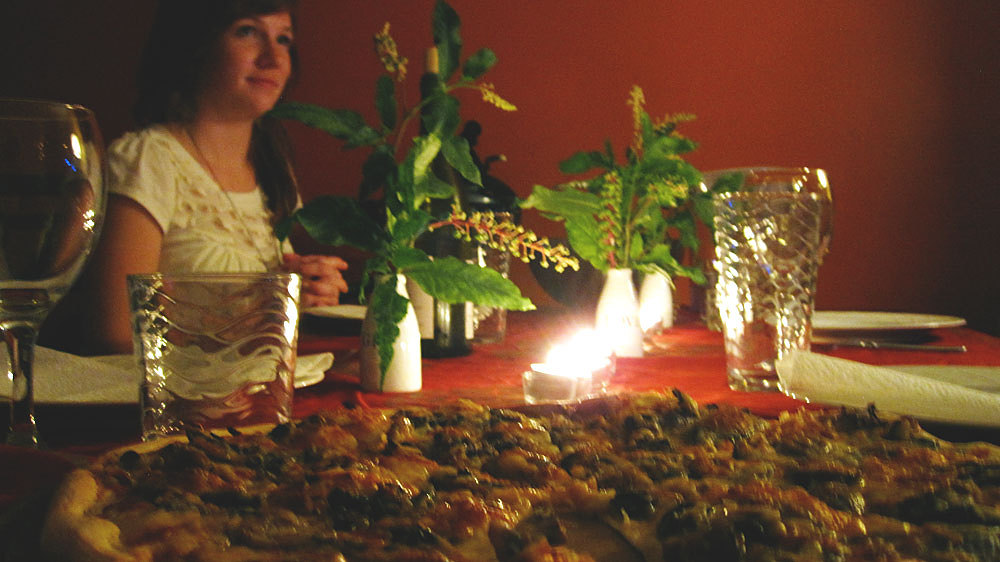 Lori's Cardinal Sins Of Pizza:
1. Broccoli: I love the "little tree" vegetable, but it just doesn't work on pizza. I can't think of one time it tasted right. Can you? I didn't think so.
2. Forgetting to offer crushed red pepper: I forgot to offer crushed red pepper with this meal. Gah. It's honestly one of the best things about pizza. Ever. Always have it.
3. Fruit on pizza: Just going to say it. I hate those flaming balls of pineapple on my savory delicious pizza. Get them out of here.
For dessert, Malaka carved a butter pig.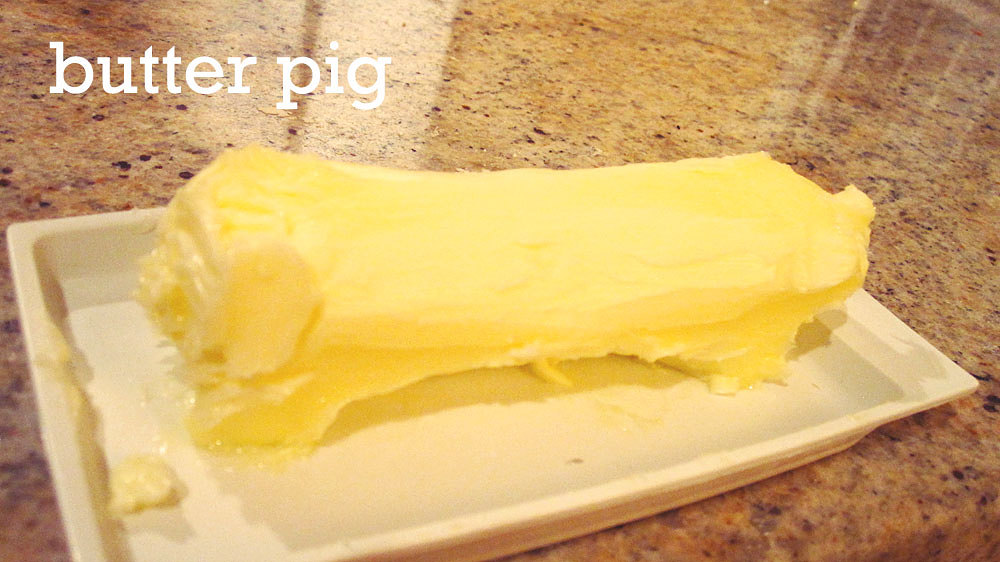 THANK YOU LORI! We loved it! And love you!
- Claire
———
Want to be a guest DJ? We'd be delighted! Email us: [email protected]